As a couple, Nick and Vanessa Lachey seem as inevitable as PB & J.
"13 years together, 8 years married, 3 kick ass kids and ONE Crazy Beautiful Love!" Vanessa
wrote in marking their wedding anniversary
on July 15. "Damn, I'm glad we found each other!!! And I'm still 'So Into You' I Love YOU & I Love US! Happy Anniversary, Baby. Here's to Our Forever."
But if you think about Nick Lachey just months before he met the woman who would go on to become the mother of his children, the woman he shares a birthday with today, his destiny as the happily married family man he is now was in question.
"Do I believe that I'll fall in love again one day?"
he wondered
in the 2006
What's Left of Me
docu-special. "I mean, I certainly hope so. I certainly hope I'm not gonna be the jerk-uncle-bachelor the rest of my life." He laughed. "That's not what I envisioned for myself."
At the time, the
98 Degrees
singer was untangling himself from one of the premiere love stories of the early '00s, his
three-year, partially televised marriage
to
Jessica Simpson
,
and
had just dated
Kristin Cavallari
for a hot second. Vanessa Minnillo had been dating none other than King of New York
Derek Jeter
on and off for several years. If anything, the two would have seemed like perfect rebound candidates for each other.
The whole thing started when Vanessa played the woman who's ripping Nick's heart out in his video for "What's Left of Me," the breakup-inspired ballad that to date is his biggest single as a solo artist. Lachey (and Simpson) had met Minnillo many times before on
TRL
, which she hosted between 2003 and 2007, but only in passing.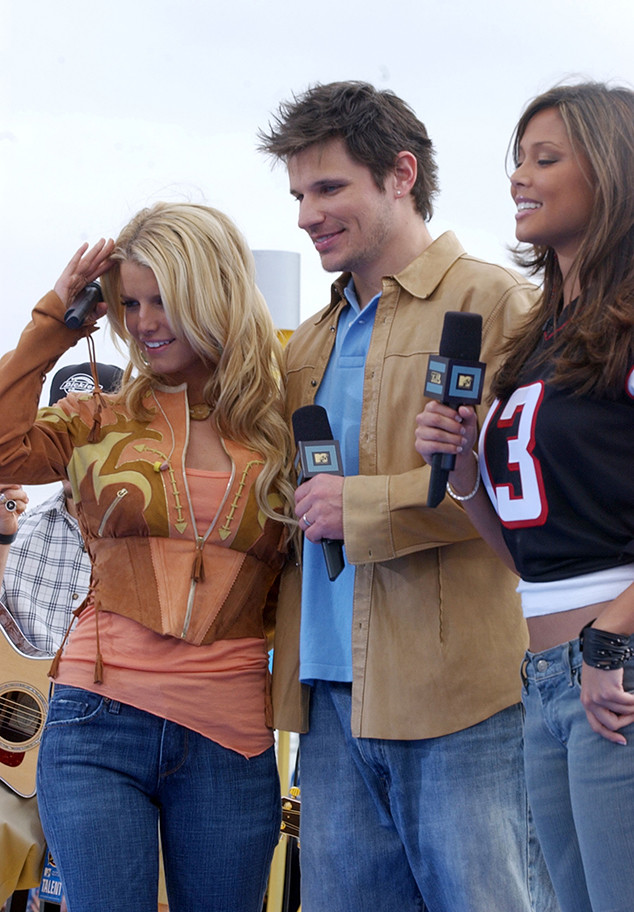 Vanessa turned the flirt up in a friendly manner, and it's cute to see how flustered Nick gets, but while their playful chemistry was off the charts in their behind-the-scenes clips, they were also falling for each other in real life.
"He's a gem—mini-crush," Vanessa concluded when the shoot wrapped.
Theirs, meanwhile, was not your average courtship because of the nature of Vanessa's work.
"It's great to see Nick dealing with his own heartache by talking about it and being so open and honest," Vanessa concluded.
Who knew then that her take on the subject mattered more than anyone's?
By the end of the year, however, they were far less shy, cuddling up at events and wearing matching USC caps on the sidelines at a football game that November.
Vanessa had extra plaudits for her boyfriend, telling the magazine, "I see even more now that Nick is the man I thought he was. He's very strong and has a good head on his shoulders. I know now he's definitely there for me. He has single-handedly pulled me through."
Their first war with the paparazzi behind them, they rang in 2008 with a big kiss on TRL's 2007 New Year's Eve special.
By October 2009, they were back together officially.
According to Vanessa, Nick got down on both knees ("I figured one wasn't enough," he added) and she immediately started crying—and then a rowdy group of tourists appeared, so Nick put his head in her lap and put his arms around her while the people passed by. "So they just see me crying," she laughed. "I wanted it to just be about she and I," Nick explained why he paused for a second. "I didn't want it to be shared with anybody else."
Presumably that was part of his argument when he was trying to right things after their brief breakup.
"For us, this is just a stepping stone to do what we ultimately want and that's to start a family together," Vanessa said.
Phoenix also was born 10 weeks early and weighing only 3 pounds, so they couldn't take him home for six weeks, an experience Nick called the "toughest and yet most wonderful weeks of my life."
She added, "I have no secrets and no skeletons in my closet with my husband, and I love that. I feel comfortable and at ease with myself when I'm around him. I love the woman that I've become with him."
They admitted in 2017 that they experienced a "funky time" the previous year, when they had two kids, Vanessa was pregnant with Phoenix, and Nick was on tour for eight weeks (though coming home as often as possible).
But ultimately, before she met Nick, she couldn't wait to meet a great guy, to have healthy and happy babies, "to live this life of love—and I'm there. So all that was work to get to you, to get to this, to get to now."
WHO KNEW?
But ultimately, before she met Nick, she couldn't wait to meet a great guy, to have healthy and happy babies, "to live this life of love—and I'm there. So all that was work to get to you, to get to this, to get to now."
MOST LIKELY TO FALL IN LOVE
CAUTIOUS CO-STARS
OFFICIAL BUSINESS