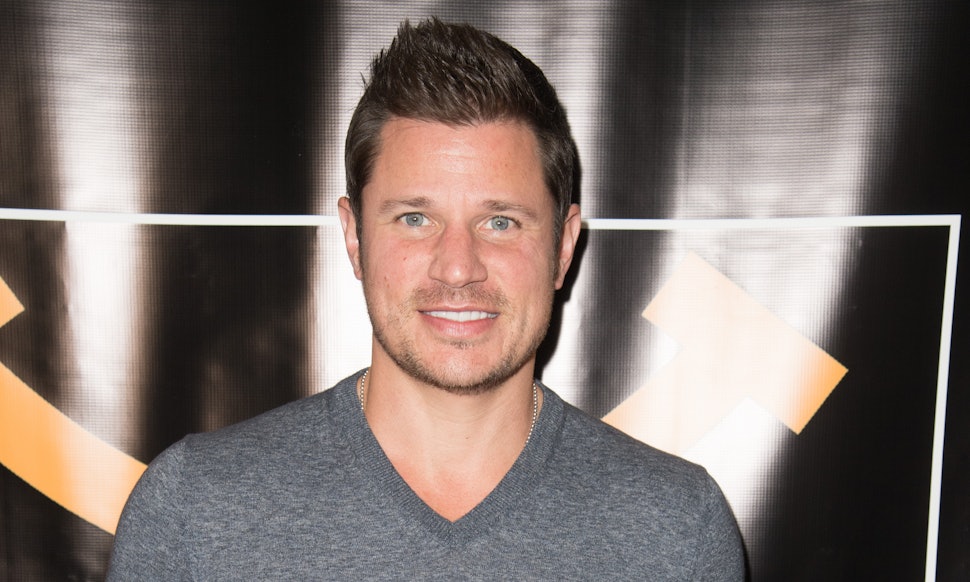 In an ever-changing world, one of life's simple consistent pleasures is the finely-tuned boy band. Whether you're a '90s purist with N'Sync and The Backstreet Boys on loop, or are still pouring one out for a One Direction or Jonas Brothers reunion, there's a timelessness to these bands' grip on pop culture. While some former boy-banders try and distance themselves from their respective groups,
Nick Lachey of 98 Degrees
not only doesn't shy away from his musical past — he is owning it more than ever before.
For one thing, the group is headed back on tour in November. Speaking to Bustle over the phone recently, Lachey reveals that the decision to go on the road again with his brother Drew and their bandmates was an easy one; after successful post-hiatus performances with New Kids on the Block and Boyz II Men on 2013's
The Package
tour
plus a 2017 holiday album, a new tour seemed inevitable. "I think we're having as a group more fun performing together now than we ever have," Lachey says. "So as long as people keep coming out and as long as we keep having fun, it just makes sense to still do. "
Another reason to keep touring? The fact that 98 Degrees apparently provided some major musical inspo for none other than current pop star Charlie Puth. When Lachey heard a 2016 radio interview in which Puth
credited the group's track
"The Hardest Thing" with kickstarting his songwriting, the 44-year-old felt humbled. "I was like, 'No way. That's crazy,'" Lachey recalls. "You know, I'm a fan of his. I think he's an incredibly talented guy. It's cool to think in some way your career helped inspire a new generation of very, very talented musicians. "
Puth isn't the only young person having some intense reactions to 98 Degrees music. Lachey's own kids have begun attending the band's concerts — although the singer says that toddlers Camden, Brooklyn, and Phoenix have varying degrees of understanding when it comes to his profession. "My son's old enough now to understand like, Daddy's a singer," Lachey says. "[But] my daughter is still too young, so she literally ran to the front of the stage and puts her arms up for me to pick her up. And I'm in the middle of doing choreography — I was like, 'Daddy's singing,' and I start to hear her get upset and then she went back to my wife crying."
Technically, Lachey says that he became a father when he and now-wife Vanessa got their dog Wookie back when they were dating. Getting a pet together was a key lesson in selflessness for the couple, and Lachey says now that the 11-year-old pup has become an integral part of the family. And the singer has become a true dog lover, supporting the
Purina Pro Plan Incredible Dog Challenge
, which airs on NBC on July 28. "He's been a huge part of our life now for 11 years and now we have three kids and we still consider him our first born," Lachey says of his own pup. "Cam, the first word out of his mouth was 'dog.' I can't really overstate how much Wookie is an important part of our family."
Lachey may be as content as possible at home, but he also has an exciting life on the road coming up. And the singer says that he couldn't be more grateful for his 98 Degrees roots and the pop music legacy it's inspired, especially while on tour. Says Lachey, "The fan reaction is kind of what makes or breaks the show for me. As long as they're singing along and they're having fun, it feels good to be up there doing it."
Knowing the world's appetite for a well-calibrated boy band, Lachey likely has far more than "just one night" to keep enjoyng his 98 Degrees success.