SOURCE
By Emily Morgan e.morgan@hngn.com

Lachey and Buteau jet down to South by Southwest with JetBlue while filming their morning show.

Nick Lachey and his co-host Michelle Buteau will take to the skies on Friday morning as they host "Big Morning Buzz Live" from 36,000 feet in the air.
The VH1 morning show partnered with JetBlue Airlines for a special pre-taped broadcast inside a chartered flight from New York to South by Southwest in Austin. The episode will air on Friday, March 20 at 9 a.m.
Headlines & Global News had the opportunity to join the flight and watch as the hosts, their guests (including Rachael Ray) and the crew navigated the tight quarters to shoot a complete episode up in the clouds.
Before takeoff, we sat down with Lachey and Buteau to talk about their expectations for the ride and what has been the best part about hosting "Big Morning Buzz Live" so far.
Headlines & Global News: What was the idea behind taping the show on a charter flight?
Nick Lachey: We were excited to go to South by Southwest. I've never been. Michelle has never been. So it's a great opportunity to go do a show from there. Obviously, we do music every day on our show. It's a big part of what we do but it's also a big part of what JetBlue does. They've done concerts from here in Terminal 5 [at John F. Kennedy International Airport]. They really embrace and support music as well on their airline. They talked to us about, maybe we do a musical performance on a flight and then we took it one step further and said, "Well, why don't we do a whole show on the plane?" So we put our heads together and came up with this concept of doing an entire episode from a chartered plane on JetBlue. They've been great to work with. They're super excited about doing it and so are we. It's a perfect partnership.
Michelle Buteau: It's great. Morning shows, not that they can become mundane but it's a lot of the same stuff, and when you give the hosts and the writers and the producers an opportunity to say, "OK, we're going to be 36,000 feet in the air. What can we do legally in this space?" People are excited. It boosts the morale, too. We can do something somewhere different. Sort of like a new sex move when you've been married for seven years. You know what I mean?
Nick: It's true.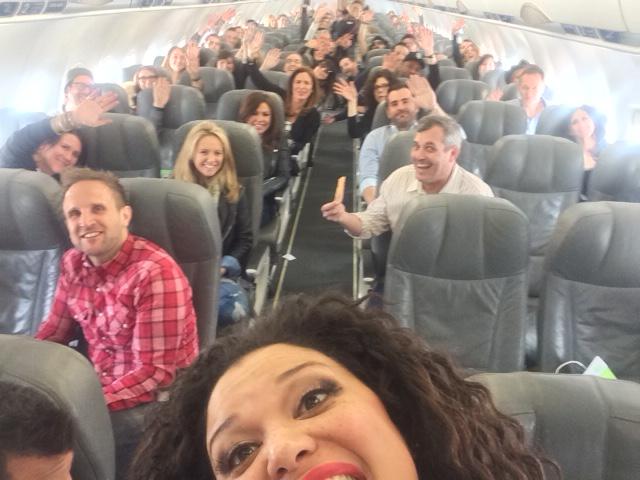 HNGN: How has it been hosting the show for each of you so far? (Nick took over as host of "BMBL" in January 2014; Michelle signed onto co-host in September 2014 after previously serving as a panelist and guest co-host.)
Nick: It's a blast. I wouldn't still be doing it if it wasn't fun every day. I get to work with this beautiful face every day (points to Michelle). No, we have a great group. It's like a family. I feel it 'svery interesting just to meet all the different [people], like today I got to interview Colin Quinn. I grew up watching him. I probably never would have had the chance to meet or talk to him. I get to do that on the show.
Michelle: It's been super fun. They don't drug test so I love that. Just kidding. They totally give me 48 hours before they did that. Just kidding!
I was guest co-hosting for a while. It just seemed like a natural fit. It feels like a second family, a home away from home.
This is our first road trip together, which is super fun. I just hope nobody f**ks up because then we'd have to get them out of the group.
But what's great about the show is that I've never been on a show where half the guests, more than half the guests, are excited to meet Nick. They're like, "Oh my God, Nick Lachey is going to interview me." They get excited just as much as we do.
HNGN: One of the things that's cool about this show is how it introduces new music. How is it providing that platform for these new artists?
Nick: That was a big part of what drew me to the show to begin with is the identity of having live music every day on the show. Obviously, it's my background. I've literally come to work countless times and walked away like, "Wow, that's a great band." I got their album afterward. So the show has introduced me to a bunch of great new artists which is a cool thing about what we do every day.
Michelle: We have this campaign called, "You Oughta Know," where we introduce new artists. Sometimes I'm like, "I've never heard of this person," and then two weeks later they are everywhere. It's really nice to be in the know. The show keeps me cool. Otherwise I'd be like, "Please, honey," with my v-necks and lip gloss.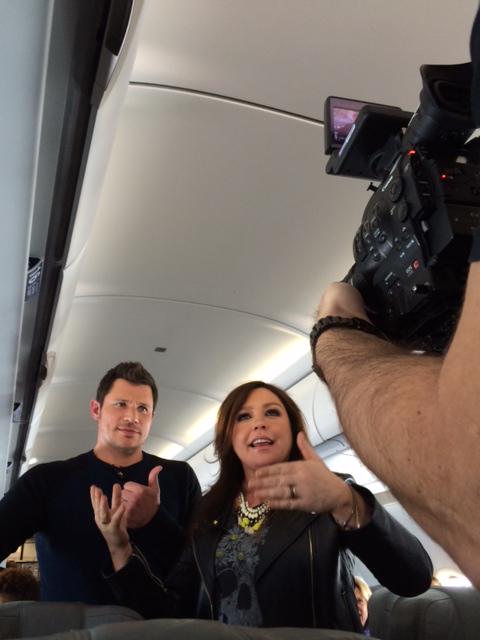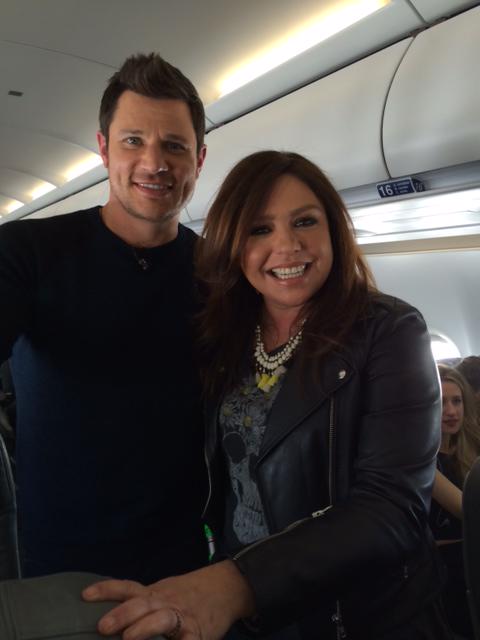 HNGN: What are you two expecting from the show today on this JetBlue flight?
Michelle: Just debauchery.
Nick: Mayhem.
Michelle: Can you wall twerk on a plane?
Nick: Altitude seems to do something to the brain. So this is going to be nuts, but it will be a lot of fun.
Michelle: Everyone's doing this for the first time, like the camera guys, us. So we don't know what's going to happen. Again, like trying out a new sex move.